We feel honored to introduce our ambassadors and featured artists of the evening: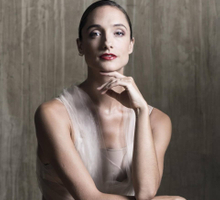 Dorothée Gilbert was named "Etoile" in 2007. She has since added to her repertoire : Swanilda in Coppelia, The Star and the title role in La Petite danseuse de Degas (P. Bart), Les Quatre Tempéraments, the first movement of Symphony in C, Rubis / Joyaux, Apollon, Mozartiana, the Divertissement from Le Songe d'une nuit d'été, Theme et Variations, Agon (Balanchine), Serait-ce la mort ? (Béjart), the title role in Giselle (after Coralli and Perrot), Tatiana in Onéguine (Cranko), Nuages, Bella Figura, Tar and Feathers (Kylián), the title role of La Sylphide (Lacotte after Taglioni), Suite en blanc (Lifar), Manon in L'Histoire de Manon (MacMillan), Triade (Millepied), Prudence in La Dame aux camélias, Troisième Symphonie de Gustav Mahler, Le Chant de la terre (Neumeier), Henriette and Raymonda in Raymonda, one of the Sisters and the title role of Cendrillon, Nikiya in La Bayadère, Odette / Odile in Swan Lake, Juliette in Romeo et Juliette(Nureyev), Albertine in Proust ou les intermittences du cœur (Petit), Psyche (Ratmansky), En Sol, The Ballerina in The Concert, Other Dances (Robbins).
PC James Bort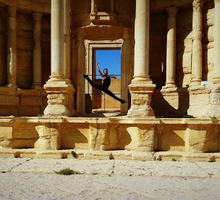 Ahmad Joudeh was born and raised in the Palestinian refugee camp of Yarmouk, in Damascus, Syria. Ever since his childhood, his dream was to be a dancer. Despite intense opposition from some family members and society in general, he attended dance lessons, often in secret. Ahmad was trained at Syria's major dance company the Enana Dance Theatre and studied at the Damascus Higher Institute for Dramatic Arts. In his free time he also taught dancing to orphans and young people with Down's Syndrome at the SOS villages around Damascus.
​
The Dutch journalist, Roozbeh Kaboly, spotted Ahmad on the Facebook page of the Higher Institute for Dramatic Arts and travelled to Damascus to document the life of Ahmad and his family for the Dutch television. The moving and inspirational documentary "Dance or Die" has also been broadcast by the international media, including the BBC, Channel 4 News, Arte and France 2. It has been viewed by millions of people across the globe.
After seeing the documentary, Ted Brandsen, director of the Dutch National Ballet was inspired to help Ahmad. Together with individuals and colleagues from The Netherlands, the Dutch National Ballet has succeeded in bringing him to The Netherlands to continue his studies and career there. He has since then danced in many different places in Europe and published a book about his extraordinary story.
"Dancing has given me the strength to face many obstacles that came my way. It has shaped my personality. Because I am a dancer, I am alive."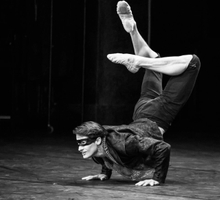 British born Alexander Jones was trained at the Royal Ballet School London. Upon graduation, he joined the Stuttgart Ballet where he was promoted to Principal dancer on stage after his debut performance of John Cranko's Romeo and Juliet. He then danced all the classical and major roles. In 2014 he was nominated by the National dance awards, England for Best Male Classical dancer.
In 2015 Alexander joined the Ballet Zurich.
He has performed in many of the major theatres, including Opera Garnier, Royal Opera House, London, Bolshoi Theatre, Moscow and Arena of Verona as part of the Roberto Bolle and friends tour.
He is currently working on a feature film project with Pontus Lidberg and Aurelie Dupont, where he will enjoy his first experience as an actor.
PC Carlos Quezada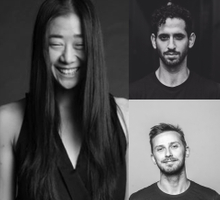 Dor Mamalia
Born in 1985, Israel. Danced in Kibbutz Contemporary Dance Company, Vertigo dance Company, Tanz Luzerner Theatre and the Israeli Opera House Company were he had the opportunity to work and dances pieces by: William Forsyth, Marco Goecke, Emanuel Gat, Jacopo Godani and Idan Sharabi. Dor also worked with Georg Reichel, Brian Arias, Jo Strømgen, Po-cheng Sai and many more. As a teacher he gave workshops in and company classes all over the world and he is also a certificate teacher in Pilates Mat and machines.
Jin Young WON
Born in 1987, South Korea. Danced in Netherland Dance Theatre 2, Basel Ballet, Cedar Lake and Saarländische Staatstheater. During the years she worked and danced piece by Jiri Kylian, Ohad Naharin, Crystal Pite, Paul Lightfoot Sol León, Emanuel Gat, Stijn Celis, Rami Be'er, Andonis Foniadakis, Alexander Ekman, Marco Goecke, Sidi Larbi Cherkaoui, Hofesh Shechter, Jo Strømgen and Angelin Preljocaj. Since then she's a freelance artist based in Berlin.
She's the 2016 received the "SponsorClub Preis", for Outstanding Performance in
Hora by Ohad Naharin & Bernada Albas haus by Stijn Celis.
Dariusz Nowak
Born in 1993, Poland. Danced at Gerhart Hauptmann Theater in Germany, and with Vanessa Cook Dance. In 2018 he participated in Saar Magal interdisciplinary dance performance "extinction/i'm still here" in Zurich. The same year, he bounded a close collaboration with Dor Mamalia.
Dariusz teaches classes and workshops all over the world, and in the meantime, he is preparing himself to begin his P.h.D studies.
Sweven (extract from the piece)
A dream of three people caught in a vision of seven hills.
Choreography: Dor Mamalia & Dariusz Nowak
Dancers: Jin Young Won, Dariusz Nowak, Dor Mamalia
Rehearsal director: Alicja Róża
Music: C. Monteverdi - Lamento della Ninfa Lefilliâtre
The piece was commissioned by Jerusalem Residence Festival with the support of the Jerusalem Municipality and from the department of dance - Arts and Culture division - Jerusalem City council.
I choose you
I choose you is a short solo piece that explores the inescapable conflict between emotional and rational feelings and thoughts, the never-ending fight between right and wrong, as well as the intense courage required to allow oneself to be vulnerable.
I Choose You premiered in Moscow in November 2016 at the Diana Vishneva Context Gala at the Stanislavsky Theatre, at the Holland Dance Festival open ceremony Gala in January 2018, and Gdansk Solo Festival in June 2018.
Choreography and dance: Dor Mamalia
Music: Amen Dunes, Song To The Siren; cover of Tim Buckley song (1969)
HUMAN FIELDS are people creating for people and we seek to express personal truths in our work. Every human possesses unique qualities arising from past experiences and beliefs which manifest themselves through artistry. As a dance collective, we strive to create an awareness of the body as the nexus between the emotional, intellectual, and physical layers of our existence. Our creations explore the human condition in the modern world, current social concerns, conflict, and philosophy through dance as well as theatre. The unique movement language we use is a confluence of various physical techniques instrumental to our creative process.
In addition to our artistic endeavours, HUMAN FIELDS is determined to develop an original approach to global dance education through our teaching method, Anchor Technique.
We, Dor Mamalia and Dariusz Nowak, began working together as dancers and choreographers in 2017. After two successful years of creation and performances, we expanded our group to include three new members: Jin Young Won, Vladimir Varnava, and Alicja Róża, thus founding a new dance collective, HUMAN FIELDS. We have performed at and/or been commissioned by Saddler's Wells Theatre, Korzo Theatre, Suzanne Dellal Centre, CONTEXT Diana Vishneva, Theatre Regensburg, and other organizations from The Netherlands, Switzerland, France, Italy, Spain, Austria, Russia, Israel, and Poland. We have also worked with many artists such as rehearsal director, Niv Marinberg, creator, Sharon Vazanna, and conductor, Lorenzo Abate.
Currently, HUMAN FIELDS is being commissioned by the Haramat Masach/Curtain Up Festival in Tel Aviv under the direction of Mate Moray and Itzik Galili. Our new work, it's me, but I'm not here (working title), will premiere in November 2019 and tour in Israel. HUMAN FIELDS has also been selected to create a piece for Provincial Dances Theatre in St. Petersburg.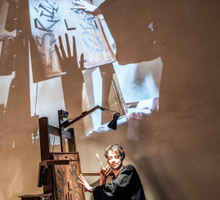 Alexander Iskin was born 1990 in Moscow and lives and works in Berlin. His work has been exhibited in many solo and group exhibitions around the world, from Los Angeles to Prague.
On the evening of the gala, exhibiting the "fastest art exhibition ever", he will paint (live) a painting within the time of the three dance performances of the evening on his "Stradivari", a specially designed instrument with a unique rotation system that allows him to paint each painting in four perspectives. It's a risky undertaking in such a short space of time that only a genius can attempt. Once the painting is finished, the works (still wet) will be displayed and offered to be sold to the audience.
PC Christoph Neumann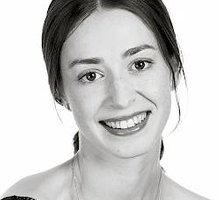 Ksenia Ryzhkova comes from Russia and received her dance education at the Bolshoi Academy in Moscow. In 2013 she was engaged at the Stanislavsky and Nemirovich-Danchenko Moscow Academic Music Theater in Moscow. She was a principal dancer at the Bavarian State Ballet in Munich from 2016 to 2019, where she appeared as Julia in Romeo und Julia, Katharina in Der Widerspenstigen Zähmung and Tatjana in Onegin (all by John Cranko), Aegina in Spartacus (Yuri Grigorovich), Alice in Alice im Wunderland (Christopher Wheeldon), Hippolyta/Titania in Ein Sommernachtstraum (John Neumeier), Anna Karenina (Christian Spuck), Giselle (Peter Wright), Manon (Kenneth MacMillan), Coppélia (Roland Petit), Odette/Odile in Schwanensee (Vladimir Burmeister) and Marie in Der Nussknacker (Vasily Vainonen). She also appeared as a lead in works by Frederick Ashton, Jerome Robbins, George Balanchine, Patrice Bart, Ray Barra and Wayne McGregor. She has won numerous awards, including the Grand Prix des Mikhaiovsky Theaters, the Ulanowa Foundation Prize and the First Prize in the Grigorovich Competition Junges Ballett.
Ksenia Ryzhkova is a first soloist at the Ballett Zürich as of the 2019/20 season.